PULMONARY REHABILITATION
Chronic lung disease is treatable and pulmonary rehabilitation can significantly improve your quality of life and the cost associated with your healthcare. William Newton Hospital in Winfield, KS offers a highly effective program designed for the treatment and rehabilitation of patients with cardiopulmonary disorders. The physician-guided program provides you with an individualized treatment plan that includes monthly reporting to your referring physician.
We will provide you with diagnostic testing, therapeutic exercises, educational training, and outcomes assessment as part of your treatment. Studies have shown that mortality is reduced by 40 percent in chronic lung disease when patients initiate pulmonary rehabilitation within 90 days of hospital discharge.
We can help you:
Improve your lung function
Reduce your respiratory symptoms
Increase your exercise capacity
Enhance your quality of life
Medicare and most insurance plans pay for respiratory care and pulmonary rehabilitation services.
Make an Appointment
Call today for more details about Pulmonary Rehabilitation: 620-222-6294
Address
William Newton Hospital
2nd Floor West
1300 E Fifth Ave
Winfield, KS 67156
Phone: 620-222-6294
Fax: 620-221-3594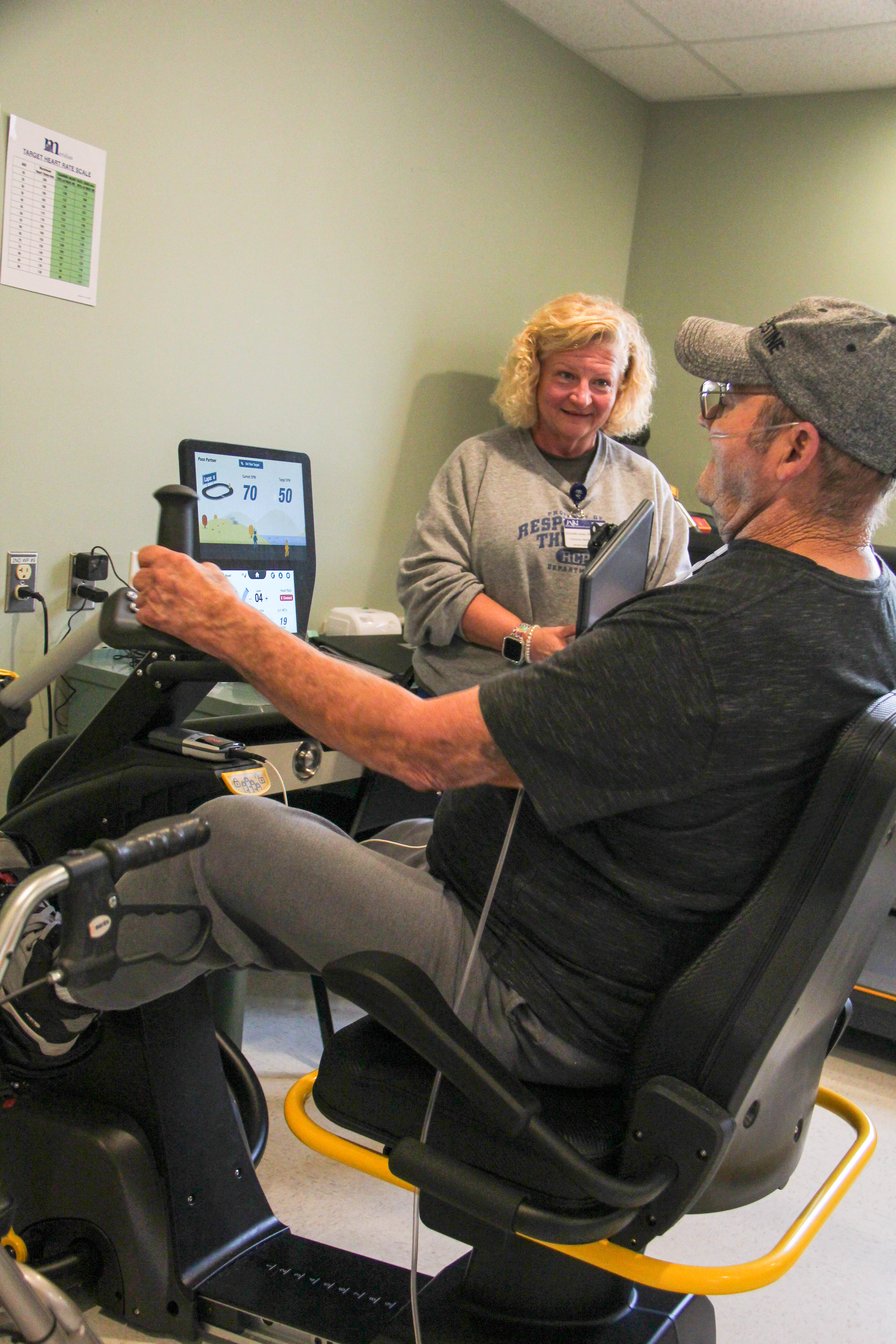 Our Respiratory Care & Pulmonary Rehab Program
Our program establishes attainable goals for your treatment and rehabilitation. We help you improve your breathing and overall health. Your custom-designed program will include a multifaceted approach to combat the progression of your lung disease. Our unique treatment methods will increase your exercise capacity, reduce your shortness of breath, and help you lead a more active life.
The benefits of participating in the respiratory care and pulmonary rehabilitation program include:
Decreased mortality
Reduced shortness of breath
Increased exercise capacity
Improved pulmonary function status
Decreased anxiety and depression
Increased independence
Reduced exacerbations and hospitalizations
Recover from COVID-19
The SARS-CoV-2 virus (COVID-19) is a health crises with long-lasting consequences. To date more than 100 million people have recovered from COVID-19 infections, but many will have long term respiratory complications.
There is a growing population of COVID-19 patients with prolonged post-acute symptoms, a syndrome described as "long COVID" that presents with a variety of chronic health issues that include impaired lung function, reduced exercise capacity and diminished quality of life.
Frequently patients continue to have shortness of breath and fatigue months after their initial diagnosis of COVID-19. We can provide essential diagnostic testing to monitor your lung function.
The respiratory care and pulmonary rehabilitation program can accelerate the recovery of exercise capacity and improvement of pulmonary functions following COVID-19 infections in many patients.
The Benefits of Pulmonary Rehabilitation in patients with COVID-19, Zhen-feng, He, et. Al. European Respiratory Journal 2021; 7: 0021202021; Benefits of pulmonary rehabilitation in COVID-19. Rainer Gloecki, et.al. European Respiratory Journal, 2021; 7: 00108-2021