Heard About Foot & Ankle Minimally Invasive Surgery?
Mar 08, 2023
Submitted by Thomas Lyman, DPM
Minimally Invasive Surgery (MIS) is a technique used by foot and ankle podiatric surgeons to correct specific conditions with very small incisions. This technique has gained attention among surgeons and patients alike due to its reported faster recovery time, smaller scars, and reduced postoperative opioid use.
"Minimally invasive surgical techniques usually have less soft tissue stripping, which results in less pain and tissue trauma for the patient. There is not a set length or size of the incision that defines the difference, but minimally invasive incisions are about 75% smaller than traditional open incisions," said Peter G. Mangone, MD
Common foot and ankle conditions that can be treated using minimally invasive surgical techniques include bunions, hammertoes, big toe arthritis, and metatarsalgia. "Research continues to identify which procedures can be performed successfully using minimally invasive techniques and those that are too complex and best managed traditionally," Dr. Mangone added.
Source of above: www.aofas.org
William Newton Foot & Ankle offers Podiatric MIS
Foot and ankle surgery has changed over time. With advancements in minimally invasive surgery, a podiatric surgery recovery time that used to take months can now be shortened to weeks.
William Newton Hospital's new procedure room is dedicated to these types of procedures. For the patient, this means they can bypass the pre/post-op area. It also means reduced wait times and fewer delays for elective procedures.
Procedures can be done with only local anesthesia. Minimizes risks for the patient, this means not being "put to sleep."
Minimally invasive procedures have small incisions (cuts) and few stitches.
MIS for a bunion, hammertoe repair, and many more can now be done. This shortens recovery time, reduces post-operative pain, and reduces long-term scarring and stiffness.
Located in the Physicians Pavilion, our providers believe in keeping patients active, offering treatments ranging from orthotic arch supports, injections, and shockwave therapy to reconstructive foot and ankle surgery. Our goal is to keep you on your feet and minimize your pain.
Our extensive variety of podiatric surgical procedures includes:
Podiatric MIS - Fractures of foot/ankle and more
Reconstructive, ultrasound-guided surgeries
Bunions, heel and bone spur removals, and hammertoes
Ankle sprains
Assessment for Peripheral Arterial Disease of lower legs/feet
Heel & foot pain
Ingrown toenail
Sports injuries (all injuries of the foot and ankle)
Not all patients are good candidates for MIS. It is important to consult with a podiatric provider to determine the best treatment option for your specific case.
To schedule an appointment at William Newton Foot & Ankle, call 620-221-4443. All of us at William Newton Hospital want you to stay healthy by being proactive about issues you're having with the peace of mind that our providers are dedicated to minimally invasive approaches.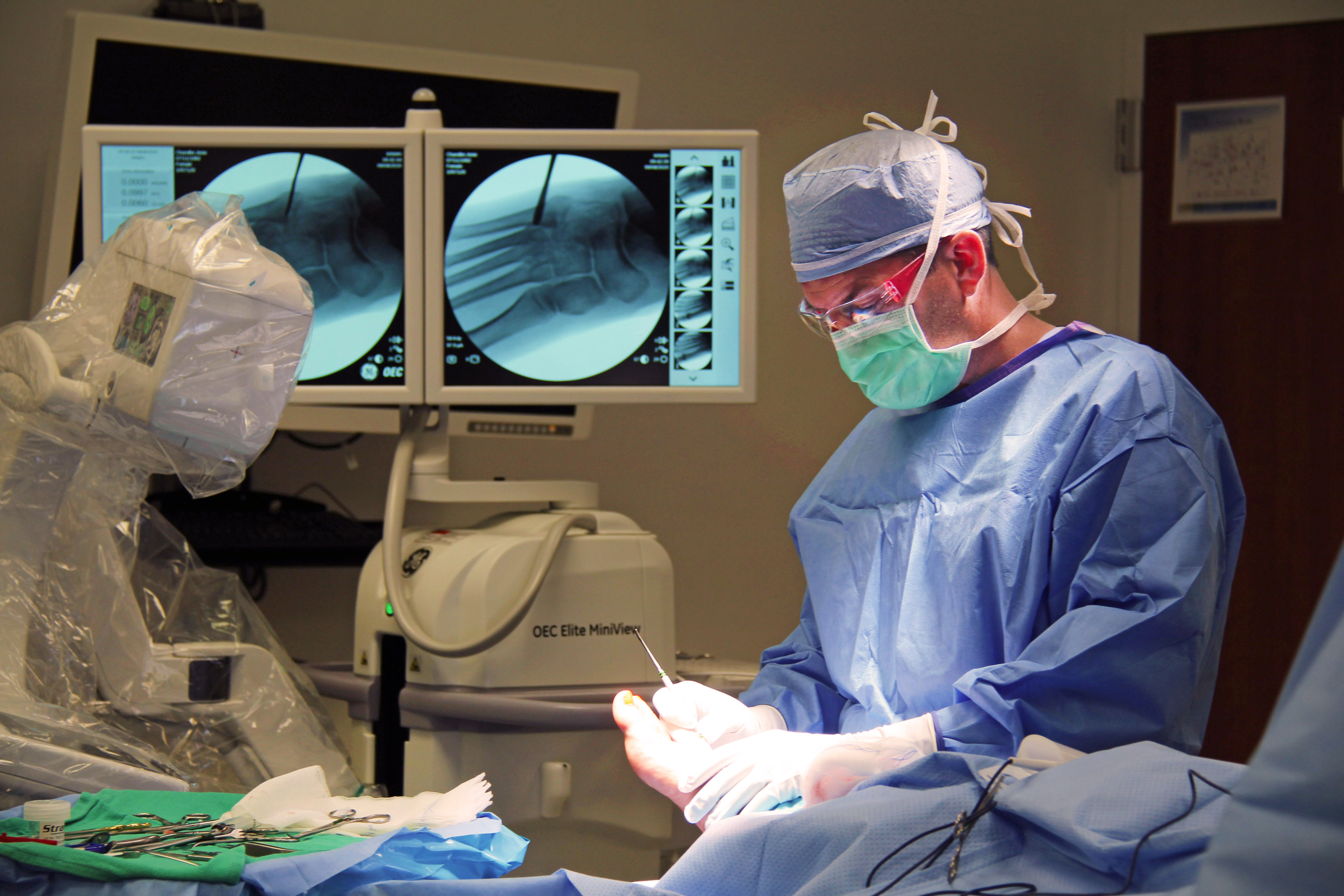 Dr. Thomas Lyman performs foot surgery in the H. L. Snyder Medical Foundation Surgery Center.
Posted in Head-to-Toe Health , Weekend Check-Up Column on Mar 08, 2023