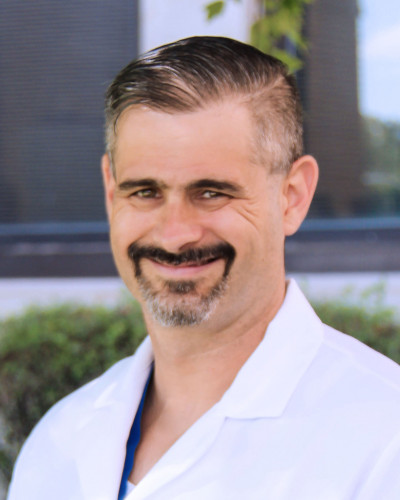 Location: William Newton Surgery & Specialties
Christopher Morrissey, DO, FACOS
Surgery, Wound Care
Hospital Employed
Contact
Phone: 620-222-6270
Fax: 620-222-6271
Credentials
Education: Kansas City University of Medicine and Biosciences
Residency: Michigan State University, Genesys Regional Medical Center, Grand Blanc, MI, General Surgery Residency
Certification: American Osteopathic Board of Surgery
Dr. Morrissey was born and raised in Phillipsburg, KS. After graduating from Phillipsburg High School in 1995, he attended Fort Hays State University from 1995-1999. While at FHSU, he obtained a Bachelor of Science in Physical Education with an Athletic Training emphasis and was also a sprinter on the Fort Hays State Track Team. While there, he also met his future wife Tranda Albers; they were married in July 1999.
In 1999, he began his pursuit of medicine as a career. They first moved to Clyde, Ks where Chris attended Cloud County Community College to obtain his prerequisites for medical school. He simultaneously worked as a Nurse's Aide and Respiratory Therapist at Republic County Hospital in Belleville, KS.
Chris was accepted into the Kansas City University of Medicine and Biosciences College of Osteopathic Medicine in 2002. Dr. Morrissey graduated from KCUMB in 2007. During his years in medical school he also completed an Undergraduate Fellowship in Osteopathic Manipulation, postponing his graduation by one year.
Dr. Morrissey was accepted into the general surgery residency at Genesys Regional Medical Center in Grand Blanc, MI. This training required an additional five years.
He is involved on the national level with: American College of Osteopathic Surgeons, American Osteopathic Association, American Hernia Society and is Board Certified. He was inducted as a fellow to the American College of Osteopathic Surgeons in 2015.
Dr. Morrissey and his wife Tranda have nine children: Caterina, Arianna, Sebastien, Nikolette, Domynik, and Brodyrik, Gideon, Tobyas and Kaspien. His interests include movies, music, running, weightlifting, geocaching, and fitness.
Did you know Dr. Morrissey has his own podcast?
Visit The Morrissey Movement to learn more and stay up to date on the latest episodes. Dr. Morrissey usually covers one aspect in medicine and one aspect in health and fitness.