DAISY Award
One of William Newton Hospital's Difference Makers recognitions, this award was created by the DAISY Foundation to say "thank you" to nurses everywhere. The DAISY Award For Extraordinary Nurses ® honors the super-human work nurses do for patients and families every day.
When will it be awarded?
Once a year. Nominations will be accepted each fall. The DAISY Award recipient will be announced at the WNH Christmas Party with a separate celebration at a later date.
Who can be nominated?
Any clinical nurse (RN, LPN or APRN) employed by William Newton Hospital for at least one year.
Who nominates?
DAISY Award recipients are nominated by their peers, physicians, patients and families, and other staff and administrators.
What does a nurse who wins The DAISY Award receive?
A certificate held in a handsome portfolio, proclaiming the recipient an "Extraordinary Nurse"
A DAISY Award pin
A unique, hand-carved serpentine stone sculpture from Zimbabwe, entitled "A Healer's Touch"
A Spotlight page on the DAISY Foundation website featuring a photo and telling the story of why this nurse was honored
Presentation in the nurses unit including: Cinnamon rolls and a celebratory banner hung in the recipient's unit for a month
Recognition at the WNH Employee Christmas party
Recognition on William Newton Hospital social media
Complete an Online Nomination Now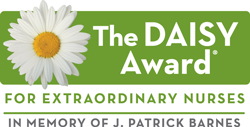 2021 Winner: Kelly Melkonian, RN
The fourth annual DAISY Award recipient at William Newton Hospital is med/surg nurse Kelly Melkonian, RN. She was surprised with the award and cinnamon rolls by her husband and members of the WNH Administration team, QI Manager Sarah Clawson, and Med/Surg Supervisor Jennifer Owen. The DAISY Award for Extraordinary Nurses® is part of the DAISY Foundation's mission to recognize the extraordinary, compassionate nursing care they provide patients and families every day. Stay tuned for a recognition of all of our DAISY Award nominees, and please join us in thanking Kelly and all of our extraordinary nurses for their continued dedication to their field.