WNH Earns Emerald Awards
May 19, 2022
William Newton Hospital was recognized for excellence in public relations and marketing for projects completed over the past two years. Presented by the Kansas Association of Health Care Communicators, the Emerald Awards are given biennially to hospitals and health systems across the state that excel in internal communications, external communications, special events, advertising, and other categories.
"Our hospital continues to find innovative ways to meet the healthcare needs of our communities. These efforts are a reflection of that," said William Newton Hospital Chief Executive Officer Ben Quinton. "On behalf of our entire organization, I congratulate the marketing and foundation teams on a job well done."
The 2022 Emerald Awards were presented at the Kansas Association of Health Care Communicators Spring Conference on May 6 in Hays, Kan. Three marketing professionals from Georgia with extensive experience in health care marketing evaluated this year's 74 entries for planning and research, implementation, cost-effectiveness, and results. William Newton Hospital submitted four entries and earned four Emerald Awards:
External Communications – Annual Report: "HouseCalls Issue 34-2021" submitted by the William Newton Hospital marketing team
Special Events: "Gala 2021: The Frightening Affair" submitted by the William Newton Hospital marketing team & William Newton Healthcare Foundation
Writing: "William Newton Hospital Treats First Cath Lab Patient" submitted by Sarah Johnson, William Newton Hospital director of marketing, strategy, and communications
Wildcard: "Frontline Strong T-Shirt Design Contest" submitted by Kylie Stamper, William Newton Hospital marketing coordinator
Johnson reflected on the teams earning these awards during the COVID-19 crisis.
"Being recognized for the work we've done amidst a global pandemic is especially meaningful. During a time when resources were strained and stress was at an all-time high, everyone at William Newton Hospital continued giving their all. The culture at our hospital is one of teamwork, resilience, and quality. That shines in the care we provide, and it's our duty to tell that story."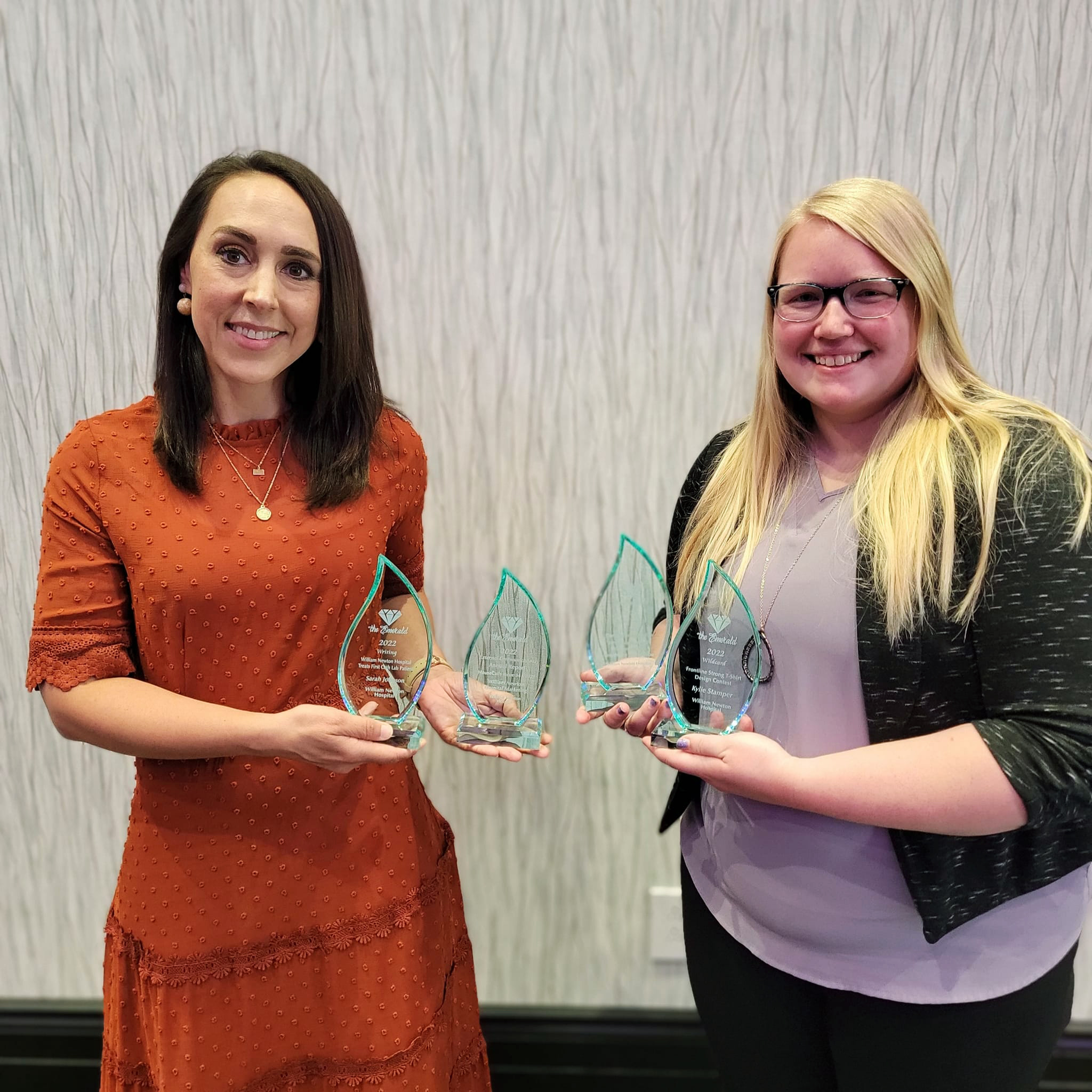 KAHCC Emerald Awards
William Newton Hospital's Sarah Johnson, left, and Kylie Stamper, right, display several awards earned for excellence in healthcare marketing and communications.
Posted in In The News on May 19, 2022