What is De Quervain's Tenosynovitis (Texting Thumb) & Does Occupational Therapy Help?
Mar 21, 2023
By Heather McLaughlin, OTR/L, William Newton Hospital Occupational Therapist
Yes, Occupational Therapy (OT) can help patients diagnosed with De Quervain's Tenosynovitis. This condition is more commonly known as "texting thumb". You may not have even heard of this condition, so first let's first take a look at what De Quervain's Tenosynovitis is.
De Quervain's Tenosynovitis & its History
De Quervain's Tenosynovitis (also known as: radial styloid tenosynovitis) occurs most often due to repetitious or awkward wrist and/or thumb movements. It is a painful tendonitis of the thumb side of the wrist associated with two thumb tendons as they pass through the wrist alongside associated tendon coverings called sheaths and become inflamed. It sometimes is accompanied by numbness.
Common Symptoms:
Severe pain at the base of the thumb
Swelling near the base of the thumb
Difficulty in moving your thumb and wrist when you are doing something that involves grasping or pinching
A "sticking" or "stop-and-go" sensation in your thumb when moving it
De Quervain's Tenosynovitis History - Named after a Swiss surgeon who identified this condition in 1895. In days gone by, it was also known as "washerwoman syndrome" due to the excessive amount of twisting necessary in wringing out clothing prior to the use of washing machines. Today, it is commonly known as "texting thumb" due to the excessive amount of thumb movement needed to text on a smartphone. It is also occasionally seen in new mothers because they often pick up their infants by hooking their thumbs underneath the baby for support. Another patient population where the condition is seen in those with RA (rheumatoid arthritis) due to the increased incidence of swelling through the hands and wrists, or with direct trauma to this area.
How is De Quervain's Tenosynovitis Diagnosed & Treated?
Your doctor can diagnose this condition with a simple test. The thumb is bent across the palm and fingers are bent down over the thumb - experiencing pain on bending the wrist towards the little finger side confirms the condition. Sometimes your doctor will take x-rays to rule out other problems and may prescribe NSAIDs and/or recommend an icing regimen. When your doctor prescribes OT to treat the condition, it is generally very successful.
Conservative Management with OT:
Custom splinting ceases movement at the thumb base and wrist
Manual therapy dissipates swelling
Therapeutic stretching
Patches that have medication to reduce swelling and pain
As your OT makes progress in decreasing pain, your therapist will begin weaning you from the splint and performing more active, strength-based exercises. This continues until you are back to normal with a range of motion and strength without incidence of pain. OT helps you regain your functional abilities and/or return to work without pain.
More About Occupational Therapy (OT) Services
OT Services, such as those offered at William Newton Hospital, include on-staff providers offering rehabilitation services for the communities they serve. WNH has both a registered occupational therapist and one certified occupational therapy assistant, providing inpatient and outpatient services to Winfield and the surrounding communities. WNH is the only outpatient OT clinic in Cowley County. The WNH OT focus is maximizing functional independence through a variety of treatment methods and clinical experience, treating patients from childhood through adulthood with a variety of conditions.
To schedule an OT appointment at William Newton Rehabilitation Services, call 620-221-2300 ext. 1194. All of us at William Newton Hospital want you to stay healthy by being proactive about issues you're having with the peace of mind that our registered & certified providers are ready to help.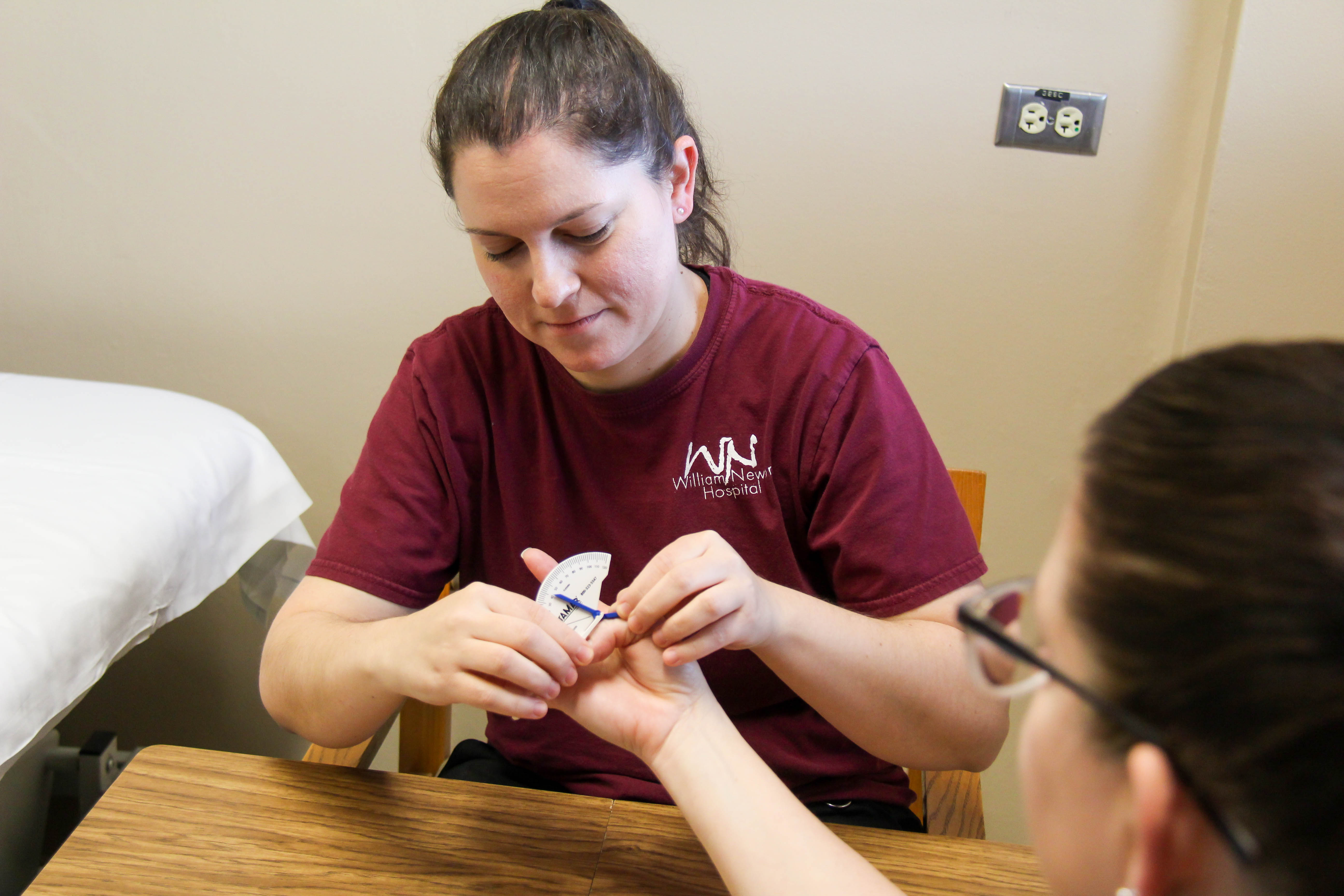 Posted in Head-to-Toe Health , Weekend Check-Up Column on Mar 21, 2023