October is Breast Cancer Awareness Month
Oct 18, 2022
A Mammogram is an Important Health Screening for Women.
Mammograms not only detect changes in a woman's breast health well before an abnormal mass can be felt by a patient or a physician, but they also greatly improve breast cancer survival rates. Women who have breast cancer detected early have a 98% chance of survival and may need less serious treatment. Below is some helpful information to understand your mammogram.
What to Expect?
Cost & Coverage:
The Affordable Care Act improves coverage of mammograms for Medicare beneficiaries and an unknown number of women on private insurance, depending on what their insurance covered previously.
The law requires Medicare to cover a yearly mammography screening at no cost to women starting at age 40.
Preparation:
Do not use lotion or deodorant on the areas under the arms and under the neck before the test.
Wear easily removable clothes on the upper half since they must be removed for the test.
If you are due for a mammogram and have been recently vaccinated for COVID-19, ask your healthcare provider how long you should wait after vaccination to get your mammogram.
If there is any chance you may be pregnant, let your healthcare provider and the technologist know.
During the test:
You will stand in front of a special X-ray machine and a technologist will place your breast on a plastic plate.
Another plate will firmly press your breast from above. The plates will flatten the breast, holding it still while the X-ray is being taken. This allows clear and accurate imaging.
You will feel some pressure. The steps are repeated to get multiple views of the breast.
The other breast will be X-rayed in the same way.
You will then wait while the technologist checks the images to make sure the pictures do not need to be redone.
Keep in mind that the technologist cannot tell you the results of your mammogram. Each woman's mammogram may look a little different because all breasts are a little different.
Your mammogram will be read by a radiologist. Results will be available from your healthcare provider in a few days. If you had a breast biopsy you might need to wait for a week or so.
Risks and complications:
Discomfort and pain may be experienced during the test.
Mammograms expose the breasts to small amounts of radiation. But the benefits outweigh any possible harm from radiation exposure. Modern machines use low radiation doses to obtain high-quality breast images.
Analyzing the results:
Normal images of breasts show no signs of tumors, lumps, or cancerous growths.
Abnormal images show the possibility of the above-mentioned symptoms and further tests may be required to diagnose the findings.
Mammograms Make a Difference
Since 1990, breast cancer deaths have been reduced by 30% due to women having routine mammograms. Regular mammograms are the best tests doctors have to find breast cancer early, sometimes three or more years before it can be felt.
New Technology in Mammography?
William Newton Hospital is a "softer mammogram provider" and uses a MammoPad to increase comfort during the exam. (Ultrasounds and MRIs may also be used to image the breast). Clinical studies have shown that using a MammoPad significantly reduces the discomfort many women feel during mammography. About 70% of women reported it reduced their discomfort by half. A MammoPad is an adhesive-backed, single-use cushion that is easily applied to any standard mammography machine, without affecting image quality.
Our Diagnostic Imaging department features knowledgeable, nationally registered, and state-licensed staff, including on-site and remote radiology services. To make an appointment for your next mammogram - contact Central Scheduling at 620-221-6221 at William Newton Hospital.
This article was submitted for the "Weekend Check-Up," a regular health column in the Cowley CourierTraveler penned by employees and friends of William Newton Hospital.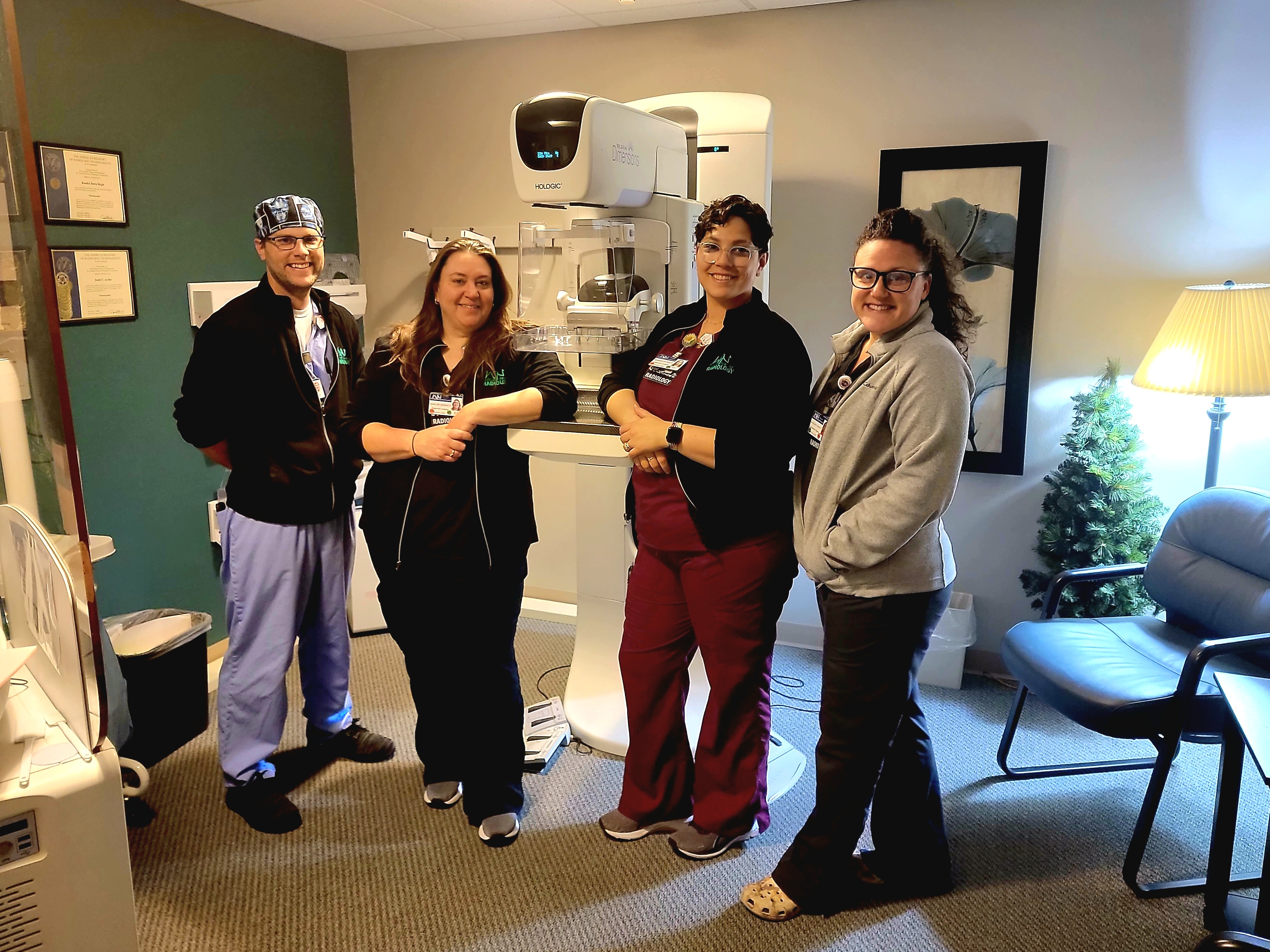 Women's Health
The women's health team at William Newton Hospital's diagnostic imaging department includes mammography technologists, breast sonographers, and breast MRI technologists. A few members of the team are shown with the mammography unit. From the left are Blake Boswell, Jamie Archer, Amanda Gropper, and Kendra Stanley.
Posted in Head-to-Toe Health , Weekend Check-Up Column on Oct 18, 2022