Infusions Offer Treatment for COVID-19
Jan 30, 2021
By Sarah Johnson, William Newton Hospital Director of Marketing & Business Development
Since December, William Newton Hospital has been administering bamlanivimab, a monoclonal antibody treatment for COVID-19, on an outpatient basis. Some of the successes witnessed by hospital staff include reduced severity of symptoms, fewer or shorter hospital stays, and less oxygen demands.
"This treatment has helped COVID-19 patients at risk for developing more severe symptoms improve sooner and be less likely to be admitted to the hospital," said William Newton Hospital Chief Nursing Officer Laura Frazier, BSN, RN-BC.
"There is no doubt in my mind this therapy has saved lives," Frazier added.
According to hospital pharmacist Kelle Thompson, RPh, the drug was granted an emergency use authorization by the US Food and Drug Administration in November 2020, and 950,000 doses have been bought by the US government as of December.
Though bamlanivimab is not yet FDA approved, Thompson said its emergency use authorization is helping patients fight COVID-19. The treatment works by blocking viral attachment and entry into human cells, which should neutralize the virus. It is indicated for mild to moderate COVID-19 in adults and children at least 12 years old and weighing at least 88 pounds.
Thompson emphasized patients should act quickly by talking to their primary physician. "The sooner the better for treatment. If it's been six days or more since their positive test, they will not meet our criteria."
Family practice physician Bryan Dennett, MD has prescribed the bamlanivimab infusion for his patients who meet the criteria. "I am happy the hospital did the work to be able to offer these monoclonal antibodies to high risk patients. When time is of the essence, the staff at WNH have been able to work quickly to get this set up."
"Who should get it? At-risk adults," stated Thompson. She outlined a few factors that qualify patients to receive this treatment:
Patients over 65
Patients with BMI of 35 or higher
Patients that have chronic kidney disease, diabetes or a weak immune system (from a disease or from using certain medications)
Patients 55 years old or greater with heart disease, high blood pressure, or lung disease like COPD Children with certain health risks may also qualify. Thompson suggested families talk to their pediatrician if the child has underlying medical problems or respiratory issues.
"We want the public to know this option is available right here in Cowley County – at both hospitals – because it has been so effective for our patients," Thompson continued.
Those receiving treatment can expect the infusion process to last approximately 2.5 hours, which includes a one-hour IV infusion and a one-hour observation after the infusion is complete.
Long-time hospital employee Cheryl Brock, shared that COVID-19 hit her household in early January. She contacted her doctor after hearing about bamlanivimab from coworkers.
"Three in my immediate family – including myself and two adult children – ended up qualifying for the 'bam therapy' (as we called it). The process was fairly short, and the results were pretty immediate. My children each felt significantly better the next day, and I started feeling relief from symptoms a couple of days later. As someone who suffered from COVID-19 myself, I would recommend anyone with a positive result ask their provider about this therapy."
If you or a loved one has tested positive for COVID-19 and may qualify for a bamlanivimab infusion, talk to your primary physician immediately as the timeframe to receive treatment is limited. For questions about infusion services offered at William Newton Hospital, call 620-221-2300.
If you have comments or story ideas, call 620-221-2300, ext. 1113, or e-mail. The "Weekend Check-Up" is a regular health column published in the Cowley Courier Traveler penned by employees and friends of William Newton Hospital.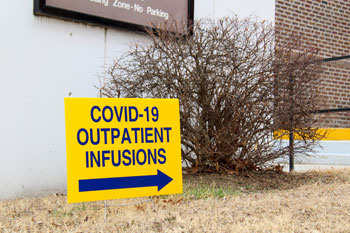 COVID-19 Infusions
WNH offers treatment for COVID-19.
Posted in In The News on Jan 30, 2021