Hospitals Collaborate to offer Surgery Services Countywide
Oct 06, 2022
William Newton Hospital and SCK Health Medical Center have been working together to offer general surgery options to the people of Cowley County and its surrounding communities. General surgeon Patrick Bloedel, MD will continue to practice at the Physicians Pavilion in Winfield and continue to see patients at SCK Health Specialty Clinic in Arkansas City.
"Our communities deserve access to exceptional general surgery care," says William Newton Hospital Interim CEO Brian Barta. "Through coordination and shared services, we're excited to continue offering a wide range of surgical services for our patients."

SCK Health CEO Jeff Bowman says, "Dr. Bloedel has been an asset to SCK Health and to the community for many years and we are pleased to be able to continue and enhance that partnership. We are elated to collaborate with William Newton Hospital to provide better access to safe, high-quality general surgery care."
Dr. Bloedel specializes in the treatment of diseases of the gallbladder, colon, breast, skin, thyroid, and other chronic and acute diseases. After graduating from Winfield High School, he received his undergraduate degree from the University of Kansas. Dr. Bloedel received his doctorate of medicine from St. George's University and completed his residency in general surgery at St. Elizabeth Health Center in Ohio in 2014. He began providing care at William Newton Hospital in 2014 and at SCK Health Medical Center in 2017.
"By offering clinics and surgeries in both communities, I can provide better care for the entire county," explains Bloedel.
On October 1, Dr. Bloedel joined William Newton Surgery & Specialties alongside general surgeon Christopher Morrissey, MD, FACOS. This William Newton Hospital-owned practice has been operating under the name Winfield Surgery & Services. Dr. Bloedel's office will remain in suite 1D at the Physicians Pavilion.
In Winfield, Dr. Bloedel sees patients on Monday and Tuesday afternoons and the 2nd Thursday afternoon each month. At SCK Specialty Clinic, the outpatient clinic located on the hospital campus, Dr. Bloedel sees patients on the first, third, and fifth Thursdays of each month.
At both facilities, Dr. Bloedel offers endoscopic services such as EGD and colonoscopies, and skin lesion/cancer removals. His general surgery options include hernia repair, gallbladder removal, appendectomies, thyroidectomies, and more.
Both hospitals take pride in offering multiple choices for local, expert general surgery care, with Dr. Bloedel and Dr. Morrissey at William Newton Hospital and Dr. Tyson Blatchford and Dr. Bloedel at SCK Health Medical Center.
Patients may have their primary care provider make a referral or may call the surgeon directly. For Dr. Bloedel, call 620-221-4060. For Dr. Morrissey, call 620-222-6270. For Dr. Blatchford, call 620-266-5098.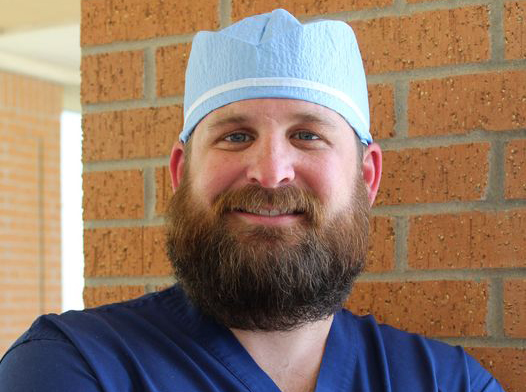 Patrick Bloedel, MD
General Surgeon
Posted in In The News on Oct 06, 2022