Gala Raises a Record $59k for Hospital; Humpert Named Healthcare Hero
Nov 04, 2021
William Newton Healthcare Foundation hosted its 14th annual fundraising event October 16 presented by Union State Bank. To help keep guests safe, the virtual gala and benefit auction was held via Zoom and used an online bidding platform through Theurer Auction.
Union State Bank President and CEO Eric Kurtz addressed guests in a pre-recorded message, acknowledging the challenges of gathering during the COVID-19 pandemic.
"Although we are not physically together, we are absolutely together in spirit and dedication for the common goal of making sure that our hospital is positioned to provide the very best care and attention to their patient's communities."
Exceeding its goal of $50,000 and setting a new event record, the foundation raised $59,200 benefiting phase two of William Newton Hospital's Second Century Campaign. In his pre-recorded welcome, William Newton Hospital CEO Ben Quinton provided an update on this project.
"Our fundraising efforts tonight will be going towards the long-term vision of our 10-year master facilities plan. This next phase will expand and improve the hospital's emergency department. This expansion will help us meet our growing needs, increase volumes, and will facilitate improvements to our care processes to better serve our communities for many years to come."
The 2021 gala was dubbed "The Frightening Affair" with an irreverent Halloween theme. Attendees were encouraged to dress in costume, and over 140 guests participated from afar. For small gatherings, party boxes including favors, decorations, and treats were assembled by Winfield High School's chapter of Health Occupations Students of America and delivered by foundation volunteers. In the week leading up to the gala, guests bid online for auction packages. On gala night, a live auction was also conducted by auctioneer Rick Hopper.
Nurse Barbara Humpert, BSN, RN, CCRN, was named the 2021 Union State Bank Healthcare Hero. Union State Bank Winfield Barb Humpert Healthcare HeroPresident Cory Helmer discussed Humpert's ongoing dedication to her patients for over 40 years.
"Barb retired from working in the ICU at the hospital in March of 2017, transitioning to irregular part-time later that year. Yet, an even greater hero came out in Barb during the last year and a half. When her community and co-workers were hit with this global pandemic, our hero Barb stepped up. She came in, got her vaccine, learned about monoclonal antibodies, prepared for wearing a PAPR daily, and began working as the hospital's infusion nurse for COVID-19 patients."
Humpert's many credentials indicate her mastery of the skills and knowledge required to properly care for the most critical patients. She has been a mentor to many long-term employees, guiding them along the path to nursing and beyond. Passing along her expertise, Humpert continues educating others through classes offered at the hospital.
"She can and does ensure you understand a topic, using whatever modality she can to make it sink in," stated Mel Burnett, MSN, RN, Clinical Educator/Infection Control Coordinator.
William Newton Hospital CEO Ben Quinton confirmed Humpert, too, was on his list of healthcare heroes.
"When I thought of all the people who could be nominated for this award, Barbara was the first person who came to mind. We are so grateful to Barbara for all that she has done – and continues doing – to teach, serve, and share of her passion for nursing with all of us."
William Newton Healthcare Foundation Director Annika Morris reflected on this record-breaking year.
"I echo the message from USB's Eric Kurtz. Though we weren't together in person, our donors came together like never before in support of one goal: to raise money for our emergency department."
Morris continued, "Without a doubt, the events of the last year and a half have shown how an investment in our ER will support the hospital's commitment to providing the highest and safest level of care possible."
Next year's gala is slated for October 15, 2022 at the historic Burford Theatre.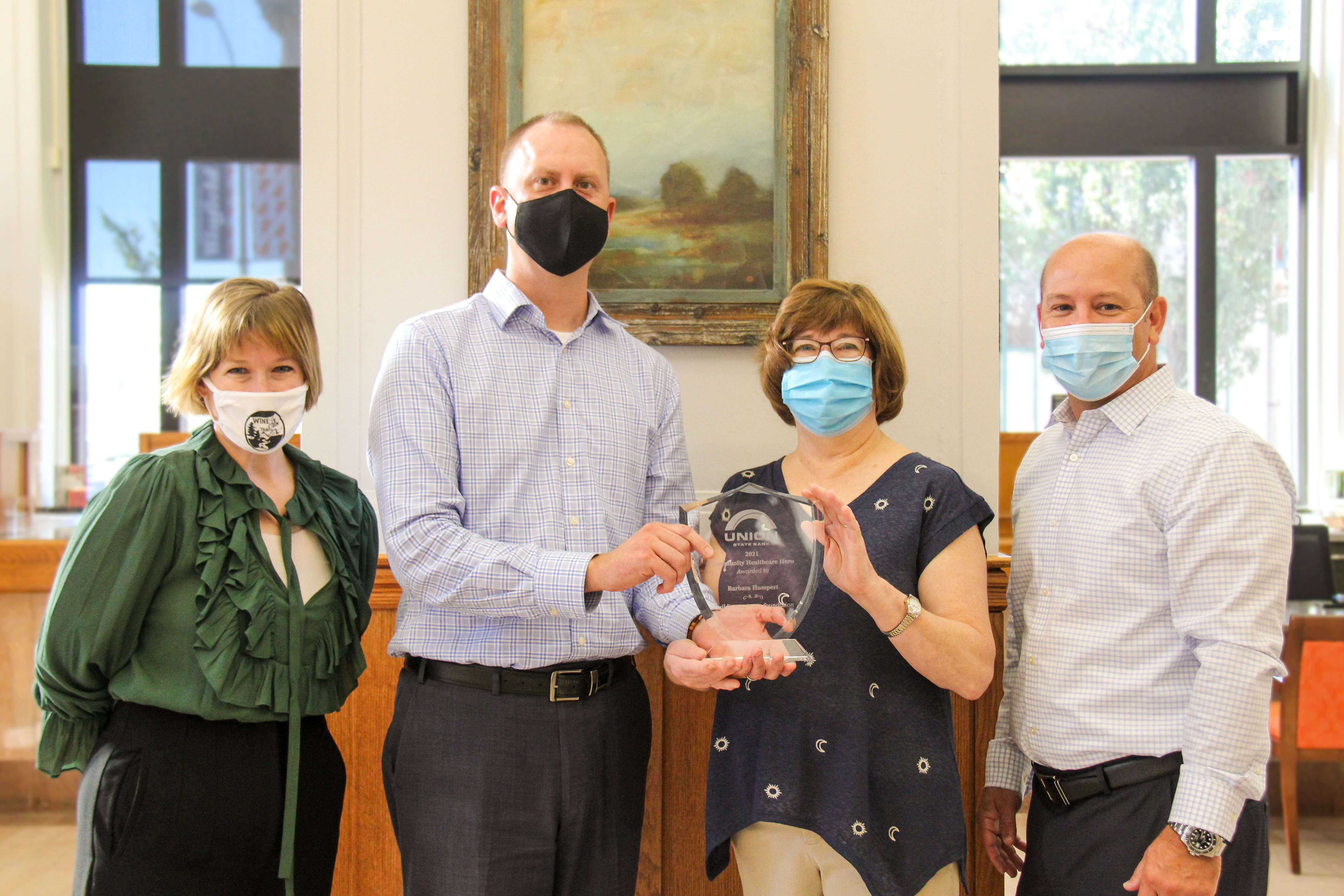 Humpert Named Healthcare Hero
Long-time William Newton Hospital nurse Barbara Humpert, BSN, RN, CCRN, is the 2021 Union State Bank Healthcare Hero. From left: William Newton Healthcare Foundation Director Annika Morris, Union State Bank Winfield President Cory Helmer, Humpert, and Union State Bank President and CEO Eric Kurtz.
Posted in Foundation , In The News on Nov 04, 2021