Free COVID-19 Self-Test Kits Offered to Community
Jul 08, 2022
A community drive-through distribution of COVID-19 self-test kits will be held from 7 a.m. to 9 a.m. and 2 p.m. to 4 p.m. on Thursday, July 14 at the Physicians Pavilion on the William Newton Hospital campus. The Community Health Center in Cowley County has partnered with William Newton Hospital and the KU Medical Center COPE project to make self-test kits readily available when COVID-19 symptoms hit.
"This event is an excellent opportunity to put high-quality home tests in the medicine cabinet for a time when symptoms might appear," explains David Brazil, Community Health Center in Cowley County Chief Executive Officer.
The drive-through event will offer one free test kit and three free N95 masks for every member of the household. To receive the free kits and masks, individuals should enter from 5th Avenue, pull up to the front entrance of the Pavilion, and put their car in park.
The kits were acquired by the Community Health Center in Cowley County as part of the "Path Out of the Pandemic" COVID-19 Action Plan, made available to all Health and Human Services-supported health centers and Medicare-certified rural health clinics. They are authorized by the FDA for emergency use.
William Newton Hospital Director of Marketing, Strategy, and Communications Sarah Johnson says if the last two years are any indication, COVID-19 cases will increase during the fall and winter.
"Self-test kits are available now in our primary care clinics. They're also available at the local health department and pharmacies. But the goal is to prevent someone who is symptomatic or has been exposed from having to leave the house," says Johnson. "We're hoping to get as many tests as possible in the hands of our community before fall."
Each kit includes two tests. According to the CDC, positive results from self-tests are highly reliable; however, negative results do not rule out SARS-CoV-2 infection. Therefore, it is recommended to test again 24 hours later to confirm the results.
Johnson says she herself has used a self-test kit at home.
"My daughter suffers from seasonal allergies, which can present similar symptoms to COVID-19. But you can't be too careful. We were fortunate to have a test kit on hand and knew what we were dealing with within 15 minutes."
The KU Medical Center COPE project community health workers will be on-site as part of their mission to implement local activities related to addressing health inequities and enhancing COVID-19 testing and vaccine delivery. Hospital staff will also be there to help greet drivers and coordinate distribution.
The event is open to all members of the community. If you are unable to attend, watch for future distribution events planned by the Community Health Center in Cowley County and other local healthcare providers.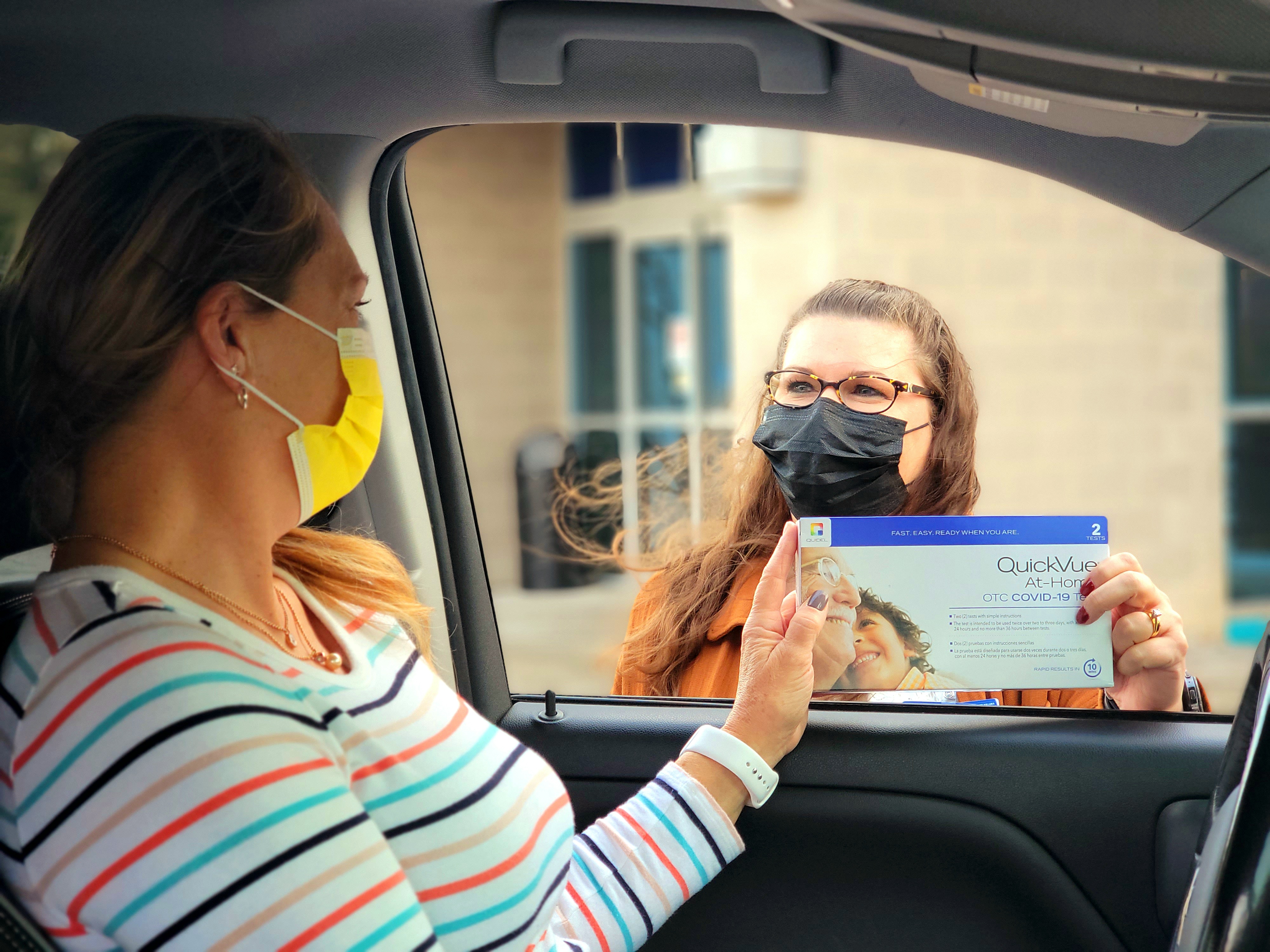 Rapid Results Anytime Anywhere
Posted in In The News on Jul 08, 2022