Treating Carpal Tunnel Syndrome with Occupational Therapy
Jun 20, 2022
Occupational therapy (OT) can provide desirable outcomes for patients with carpal tunnel syndrome. Carpal tunnel syndrome is by far the most common of all peripheral nerve entrapments. It happens when a nerve near the wrist gets entrapped and causes symptoms including numbness, tingling and/or pain in the hand (especially the thumb, index, and middle fingers), weakness or hand clumsiness, and possible changes to hand color, temperature, and texture. In most cases, it is considered a cumulative trauma, meaning that repetitive wrist or hand movement generally causes symptoms, but also can be caused by awkward hand/wrist positions, excessive vibration, or working in excessively cold environments. There are also less common factors of acquisition including vascular, obesity, alcohol use, diabetes, etc.
Treatment depends on the stage of compression and length of symptoms. Treatment may include splinting, specialized exercises, and manual therapy, as well as potential modalities used to relieve pain and inflammation. The occupational therapy team at William Newton Hospital is trained to treat hand disorders like carpal tunnel and other ailments. Speak with your primary care physician to make sure OT treatment is appropriate for your condition. A physician's order is required to setup an appointment with WNH Rehabilitation Services.
WNH Rehabilitation Services is the only clinic in Cowley County providing outpatient occupational therapy services. WNH has a registered occupational therapist and a certified occupational therapy assistant on staff. We provide inpatient and outpatient services focused on maximizing functional independence through a variety of treatment methods and clinical experience. We treat patients from childhood through adulthood with a variety of conditions including neurological conditions, stroke, arthritis, fracture, upper extremity surgical aftercare, cumulative trauma, etc. In addition to carpal tunnel syndrome, our therapists also offer upper extremity rehabilitation, splint fabrication, individualized training in everyday living skills, wheelchair assessments, and more. Learn more about WNH Rehab or call 620-222-6215 to schedule an appointment.
Heather McLaughlin, OTR/L
Occupational Therapist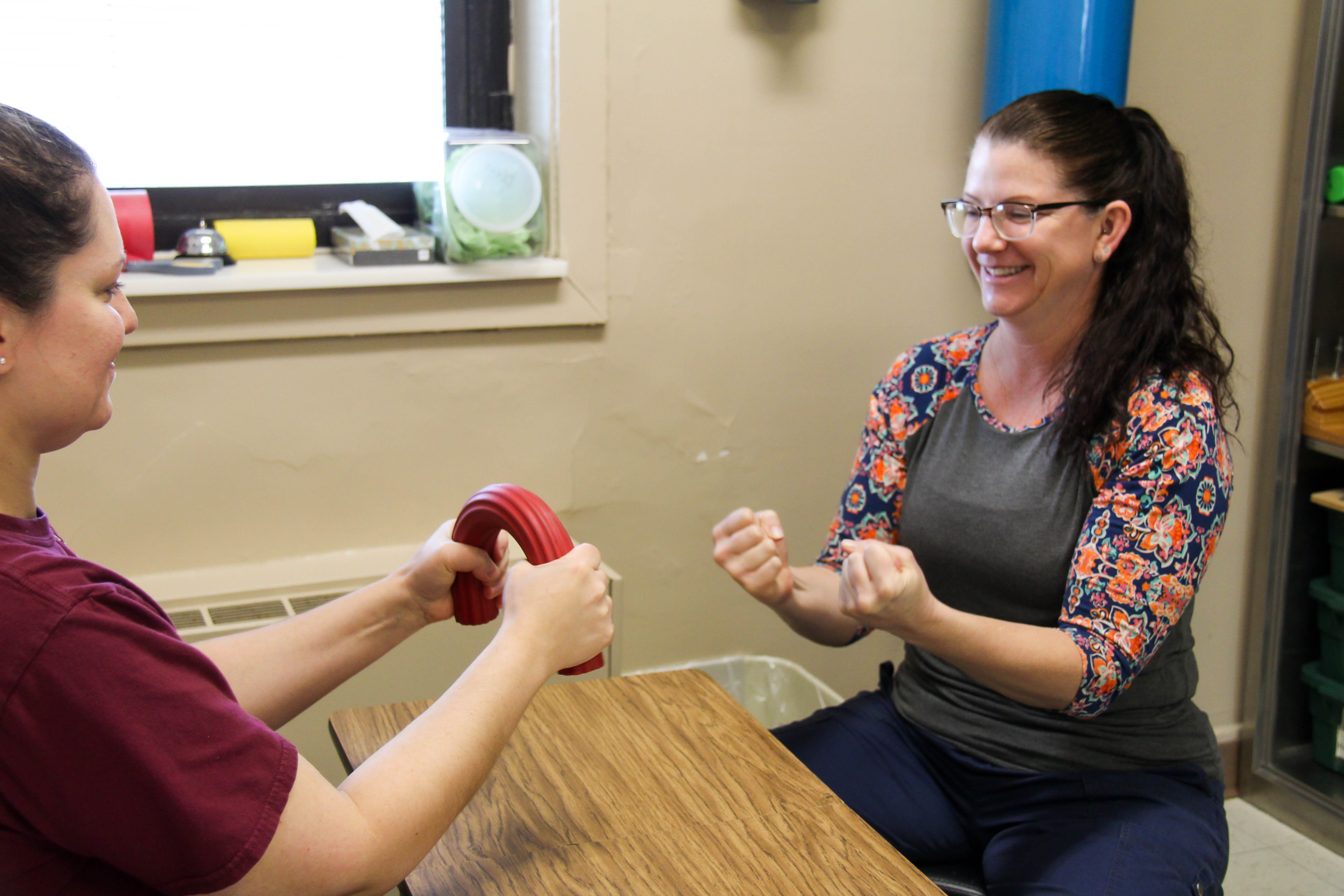 Heather McLaughlin facilitates an exercise with an OT patient.
Posted in Weekend Check-Up Column on Jun 20, 2022