Dr. Beard Expands Outreach in Neodesha
Jan 14, 2022
Starting February 16, Ryan Beard, MD is returning to Neodesha to see patients at the Wilson Medical Center (WMC) specialty clinic located on the hospital campus at 2600 Ottawa Rd. Dr. Beard is now scheduling office visits on the 3rd Wednesday of each month.
"WMC is looking forward to Dr. Beard returning to our Specialty Clinic," states Janice Reese, WMC Marketing/Foundation Director. "His cardiovascular knowledge and expertise in this field will help treat cardiac patients in Southeast Kansas. As an interventional specialist he is able to diagnose and treat coronary artery disease, vascular disease, and congenital heart defects. We are very fortunate to have such an expert in this field."
Board certified in cardiology, Dr. Beard is a Kansas native. He received his medical degree from the KU School of Medicine in 2008. After completing his residency and fellowship, he began practicing in Wichita as an interventional cardiologist in 2015. In September 2021, he joined William Newton Cardiology, a full-time cardiology clinic at William Newton Hospital in Winfield.
"Dr. Beard and team are excited to extend cardiovascular care to the people of south east Kansas," says William Newton Cardiology Clinic Manager Jackie Adrian, RN.
Common reasons to schedule an appointment with a cardiologist include:
Experiencing chest pain
High blood pressure
Shortness of breath, palpitations or dizziness
Diabetic
History of smoking
High cholesterol
Chronic kidney disease
Family history of heart disease
Peripheral arterial disease
As an interventional cardiologist, Dr. Beard performs several procedures at William Newton Hospital's state-of-the-art cardiac catheterization lab (or "cath lab"). A cardiac cath is done for several reasons including the diagnosis of heart conditions, evaluation of blood flow to the heart muscle, or to open a blockage in the artery. A coronary angioplasty procedure involves the opening of a coronary artery using a balloon. Dr. Beard can also place a stent, a tiny coil or tube placed inside the artery to keep it open.
Dr. Beard also treats arterial conditions of the arms and legs. A peripheral angiography procedure is also performed in the cath lab to evaluate abnormalities or blockages. The procedure is typically performed on patients who have symptoms associated with peripheral arterial disease (PAD) such as: non-healing wounds, ulcers, pain when walking or climbing stairs, coldness in lower legs or feet, and painful cramping in hips, thighs, and calf muscles. Patients experiencing any of these symptoms should seek treatment for a possible blockage.
To schedule an appointment with Dr. Beard, contact the William Newton Cardiology clinic at 620-222-6264.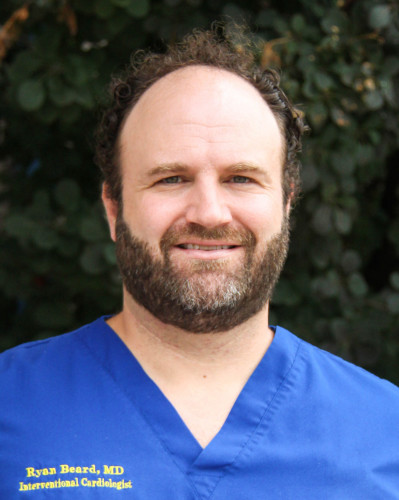 Ryan Beard, MD
William Newton Cardiology
Posted in In The News on Jan 14, 2022