William Newton Hospital achieves High 5 Premier status
Jun 22, 2022
William Newton Hospital has met all requirements to be named a High 5 for Mom & Baby Premier Facility. High 5 is a program offered by the United Methodist Health Ministry Fund which includes two levels. The general distinction requires at least five practices be implemented; the premier level means the hospital has committed to implementing all 10 best practices recognized by the program.
"Our Family Birthing Center has a long-standing commitment to supporting these initiatives," said Chief Nursing Officer Debbie Marrs, BSN, RN. "High 5 participation helps us stay acutely aware of the needs for moms and babies."
The WNH Family Birthing Center began implementing High 5 best practices in 2012 and achieved full High 5 program recognition in 2015. The hospital has achieved High 5 status each year since then, reaching the premier level for the first time in 2022.
Rachel Livingston, BSN, RN, recently assumed the role of the Family Birthing Center manager. She says, "I am honored to join a team that takes such pride in the commitment to support mothers and their babies in our community by providing the best level of care possible. I cannot wait to carry on this amazing and vitally important practice."
High 5 for Mom & Baby provides a framework to help Kansas hospitals and birthing centers improve health outcomes for breastfeeding women and their infants. To obtain this recognition, each facility is asked to complete a voluntary and self-reported evaluation and to follow at least five of the ten evidence-based practices below.
Facility will have a written maternity care and infant feeding policy that addresses all ten High 5 for Mom & Baby practices supporting breastfeeding
Facility will maintain staff competency in lactation support
All pregnant women will receive information and instruction on breastfeeding
Assure immediate and sustained skin-to-skin contact between mother and baby after birth
All families will receive individualized infant feeding counseling
Give newborn infants no food or drink other than breastmilk unless medically indicated
Practice "rooming in" -allow mothers and infants to remain together 24 hours a day
Families will be encouraged to feed their babies when the baby exhibits feeding cues, regardless of feeding methods
Give no pacifiers or artificial nipples to breastfeeding infants
Provide mothers options for breastfeeding support in the community (such as a telephone number, walk-in clinic information, support groups, etc.) upon discharge
These steps are designed to increase breastfeeding initiation and duration rates in the state of Kansas. According to the National Center for Biotechnology Information (NCBI), 60 percent of mothers stopped breastfeeding sooner than they planned. Some factors that influence how long or if a baby is breastfed include: hospital practices, education and encouragement, policies or support in the workplace, and access to community support. 
According to www.high5kansas.org, 41 hospitals and birth centers around the state met the criteria during this evaluation period, 21 of those being premier facilities.
Along with the recognition of being named a High 5 for Mom & Baby facility, William Newton Hospital also receives ongoing education and training opportunities, support, and resources through a community of delivery centers.
More information about the William Newton Hospital Family Birthing Center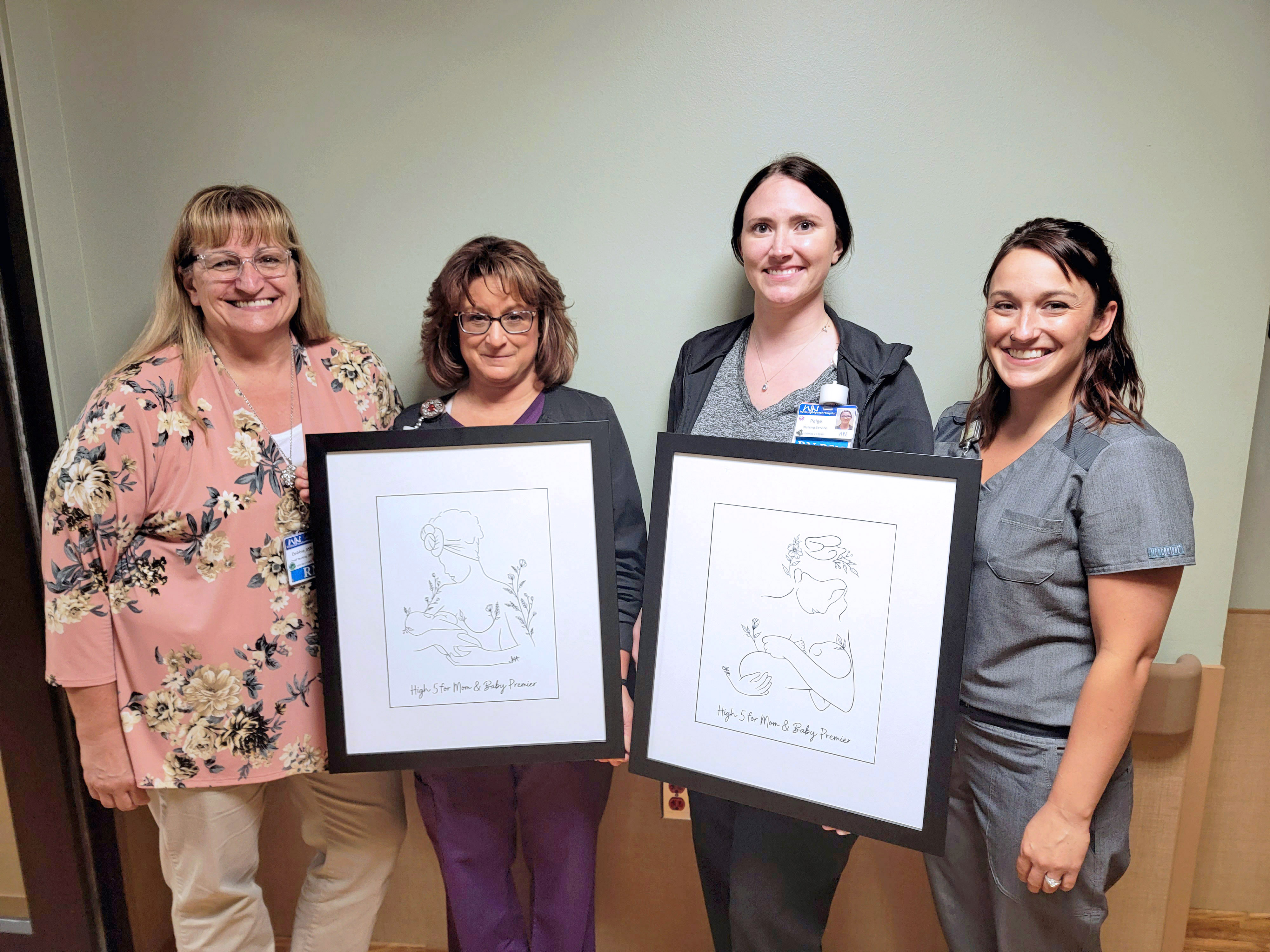 OB Team Honored for Achievement
William Newton Hospital Family Birthing Center staff proudly display their High 5 for Mom & Baby art pieces. Pictured from left to right is Chief Nursing Officer Debbie Marrs, OB nurse Angie Brooks, OB nurse Paige Smith, and Family Birthing Center Manager Rachel Livingston.
Posted in In The News on Jun 22, 2022