Union State Bank Gifts $10k to William Newton Hospital
May 24, 2022
Union State Bank renewed its $10,000 pledge to the William Newton Healthcare Foundation, bringing the bank's total contributions to $131,000 since 2010. This gift names Union State Bank as presenting sponsor for the foundation's major fundraiser, a formal gala and benefit auction.
"Union State Bank is thrilled to provide our support to William Newton Hospital as the presenting sponsor for the 2022 Healthcare Foundation gala for the twelfth consecutive year. Our commitment to a healthy community is more than just financial. The Union State Bank team is here to help in any way possible," Union State Bank Winfield Market President Cory Helmer remarked.
Helmer stressed the importance of local healthcare, particularly in these uncertain times.
"The resources provided by our local, community hospital have never been more important than over the past couple of years, and we are honored to assist the foundation in accomplishing its mission of philanthropic support for quality healthcare at William Newton Hospital."
Union State Bank has been supportive of William Newton Healthcare Foundation's efforts since the non-profit was founded in 2007. Not only has the bank contributed financial resources, but Union State Bank representatives have served on the hospital board of trustees, foundation board of directors, and numerous committees. Union State Bank staff have volunteered at events, and many contribute personally to the foundation each year.
Previous contributions from Union State Bank have supported physician recruitment, medical equipment upgrades, and various hospital renovations. Proceeds from the 2022 gala will be directed towards the Second Century Campaign, which supports William Newton Hospital's long-term plan to expand facilities, meeting demands for access to healthcare in Cowley County and neighboring regions. In addition, Union State Bank's $10,000 donation will be counted towards Winfield Economic Development's $500,000 corporate challenge gift.
William Newton Hospital Chief Executive Officer Ben Quinton expressed gratitude and excitement for this upcoming event.
"Union State Bank's contribution will enable us to bring people together in person for the first time in over two years in support of the hospital and its dedicated healthcare professionals," said Quinton. "We deeply appreciate the bank's commitment to ensuring our community has access to quality care."
To date, the foundation has raised over $405,000 through its gala. The 15th annual event will be held at the historic Burford Theatre on Saturday, October 15. The twenties-themed gala coined A Grand Affair will include entertainment, a five-course meal, and silent and live auctions. Tickets go on sale in late July. To be added to the mailing list, contact the William Newton Healthcare Foundation at 620-222-6275.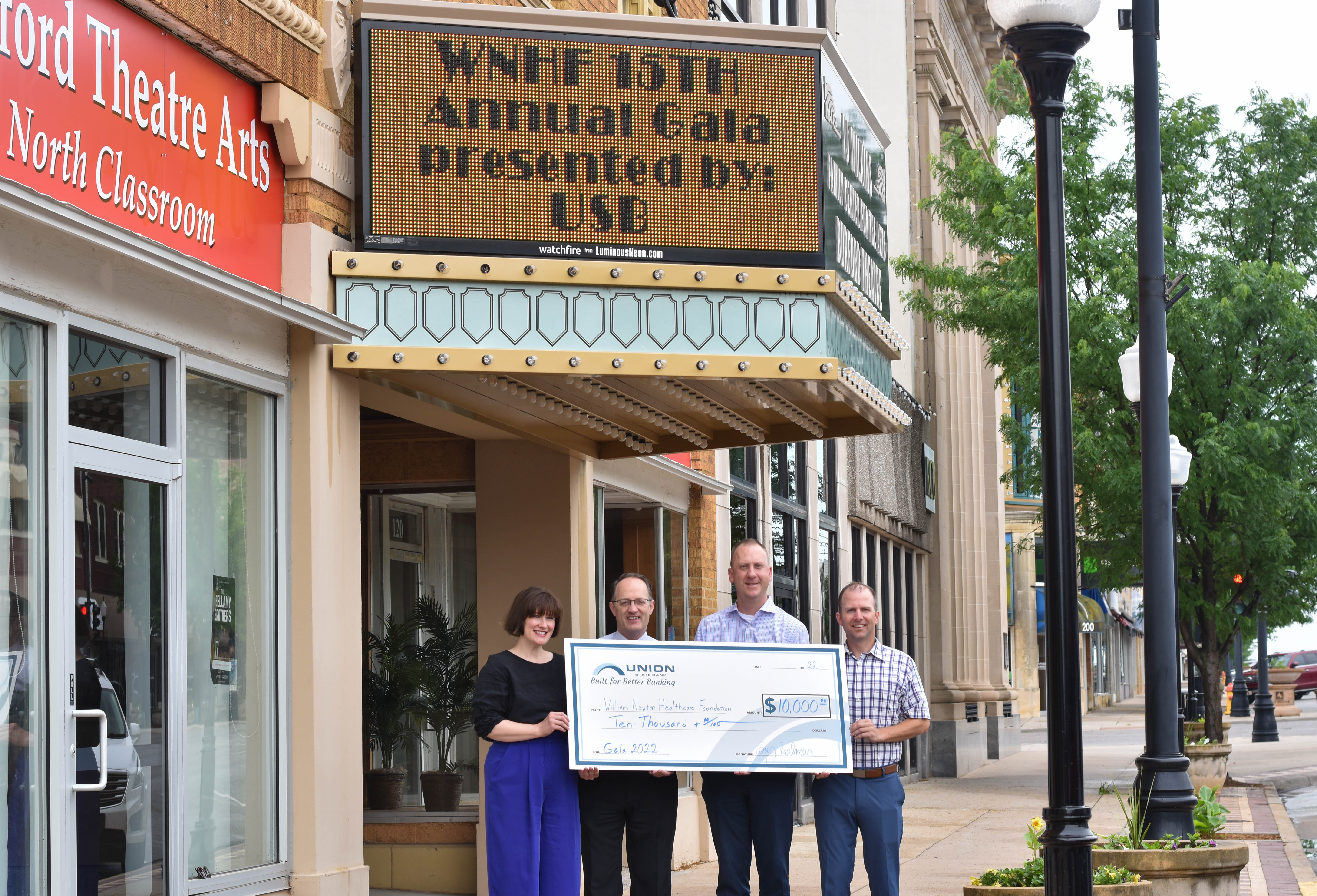 Under the Burford marquee
Standing in front of this year's gala venue, the Burford Theatre, Union State Bank presents a check for the renewal of its annual sponsorship benefiting William Newton Healthcare Foundation. From left: William Newton Healthcare Foundation Director Annika Morris, William Newton Hospital Chief Executive Officer Ben Quinton, Union State Bank Winfield Market President Cory Helmer, and Union State Bank Vice President/Mortgage Lender Rusty Zimmerman.
Posted in In The News on May 24, 2022